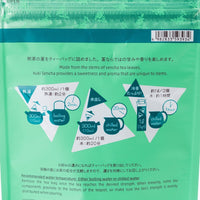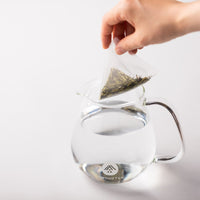 Stems Sencha Teabags (Teapot Size) - 9 Bags
Our large size sencha teabags use the stems of sencha tea. This produces a brew with the bright, floral aroma of stems, in addition to the classic sencha balance of umami and mild astringency.
Shelf life
Consume quickly

The best before date is 180 days from when it is freshly packaged in Japan. For the best experience, consume within around one month of opening.
Serving size
1 teabag per pot (10 fl oz.)
Net weight
2.2 oz (0.24 oz per bag)
We filled each of these wide pyramid teabags with sencha stems (kuki) to produce a tea with classic sencha sweetness, astringency, goldenrod color, and fragrance. The stems impart a vibrant fragrance to the brew, in comparison to our regular loose leaf sencha lineup.
These large size teabags allow you to quickly and easily prepare refreshing sencha for yourself or a group of friends. The package is re-sealable for freshness, and it comes printed with instructions and a description of the tea in English and Japanese.
Ways to Prepare
Hot Brew
Put 1 teabag into a pot or other large container and add 10 oz (300 ml) of boiled water
Wait about 2 minutes before serving
Cold Brew
Put 2 teabags into a pitcher or other large container and add 1 liter of chilled water
Wait about 1 hour before serving
Customer Reviews
5.0 out of 5 based on 2 reviews
---
Beautiful flavour
This is a perfect amount for a nice pot of tea. No guessing, since they are individually wrapped.
---
Stems Sencha One-Pot Teabags
We love the Sencha Stems One-Pot Teabags!
Show more