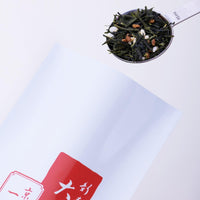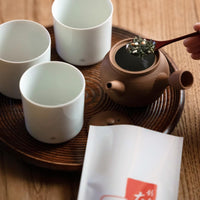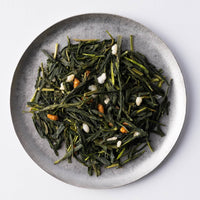 Obukucha (Good Fortune Tea) - 100g Bag
This seasonal tea currently sold out. Obukucha (Good Fortune Tea) - 100g Bag is available every New Year.
Enter your email address below to be notified when we have this item in stock:
You will receive an email as soon as Obukucha (Good Fortune Tea) - 100g Bag is back in stock.
Obukucha is a genmaicha that combines the light sweetness of high-grade yanagi tea leaves with the heartiness of roasted rice.
Shelf life
Consume quickly

The best before date is 180 days from when it is freshly packaged in Japan. For the best experience, consume within around one month of opening.
Serving size
10 g / 0.35 oz (roughly 2 tbsp.)

Up to 3 pots can be brewed with the same leaves.
Obukucha is a special release genmaicha, made with higher grade green tea leaves than our year-round Genmaicha. The result is a tea with a fuller-bodied, sweeter green tea character and a hint of roasted rice. Just like our other genmaicha blends, you can enjoy sipping this tea lightheartedly throughout the day and with meals.
In Japan, the important New Year's holiday is an occasion to gather with family—which of course calls for tea. We release this Obukucha exclusively around the holiday season, as a tea to drink in celebration of the arrival of a new year.
In fact, the name Obukucha means "Good Fortune Tea." In Japan, Obukucha has been enjoyed for over 10 centuries as a tradition at New Year's, to bring good luck and good health in the coming year. We hope that you and your loved ones enjoy this tea in happiness and health, while looking towards the new year.
In 951, a serious epidemic swept through Kyoto. In an effort to relieve the suffering, a Buddhist priest, Kuya, distributed tea to the people. It has been said that Emperor Murakami ushered in the New Year with a special cup of tea that year. Since then, it has been a Japanese tradition to drink Obukucha (which means "Good Fortune Tea") around the New Year.
Ways to Prepare
Customer Reviews
4.94 out of 5 based on 18 reviews
---
Favourite
This is one of my favourites, and I feel the need to stock up every time this comes out. Drinking this just makes me feel relaxed, and the taste is very mild but easygoing for anytime of the day.
---
Excellent service
Excellent service and the tea was absolutely delightful
---
In love with this
I have loved genmaicha since I was gifted a random brand a few years ago but haven't branched out beyond Ito En. I'm so glad to have taken the chance on this obukucha. I didn't think genmaicha could be much more than that yummy roasted flavor (which is my favorite part), but the green tea in this gives the slightest bitterness that just stands out over the roasted rice. To me, genmaicha is a simple tea to drink throughout the day, but this blend manages to have a more luxurious feel to it. Though I might not drink it every day because of the price, I am very glad I purchased this.
---
Got the essential matcha kit and obukucha tea for my bf as an early v-day gift. The tea taste so amazing! And the kit is well put together! Definitely will continue purchasing more products!
---
Very good!
I have to say I really can't tell the difference between this and genmaicha, but it is really nice. The roasted rice gives the tea a sweetness and nice balance to the umami. Hard to go wrong with this tea.
---
Nice, subtle toasted rice
Supple mouth feel on the first pour, very nice, light toasted rice flavor. The second pour is my favorite - more subtle mouth feel and the rice flavor is more balanced. Overall a very nice tea.
---
So happy!
I was surprised at how much I liked this. I'm usually prefer sencha over genmaicha but the roast on this was very light. Fantasy tea!
---
Glad that superstition got me to buy this tea
I always do certain things for New Year to keep my luck. I do add things to my traditions when I hear about other good luck traditions. Saw this tea and ordered it last year. This will definitely be a tradition because the tea is very nice. Plus it is something that my Mom would have drank when she was around. Nice and light. Like the subtleness and very faint lemon? I know I just like it. lol
---
Great tasting tea in Winter
Hot & full bodied - it's the perfect pairing tea for Winter snacks and the holiday season
---
beautiful tea
Love this tea. It has a delicate flavor and aroma, very drinkable. The toasted rice is rather subtle. Very good quality.
Show more