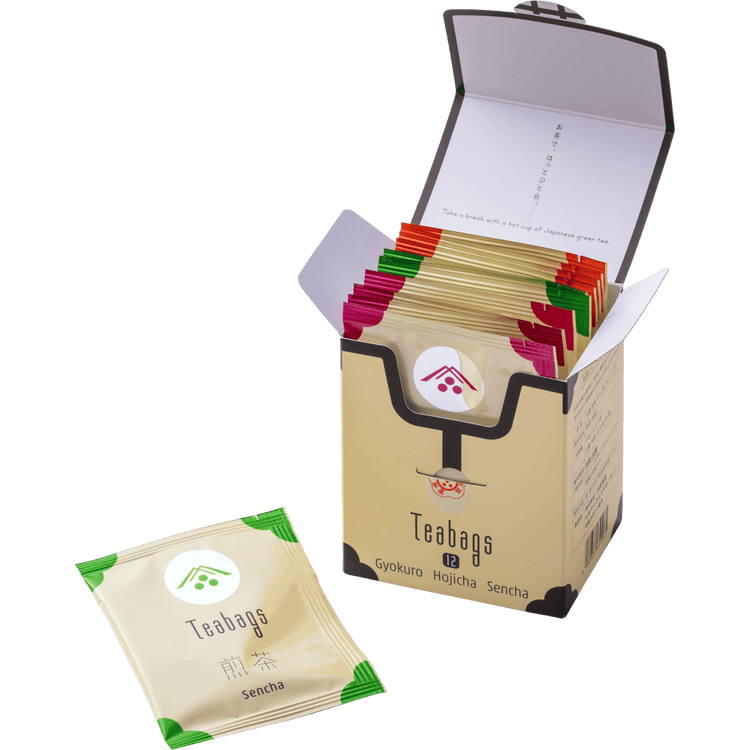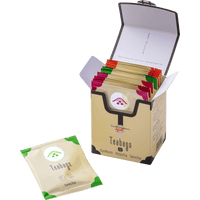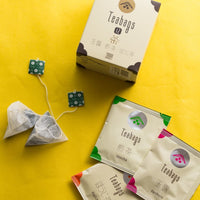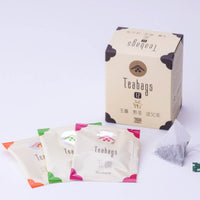 Teabag Assortment - 12 Bags
We don't have an expected restocking date. This item may not arrive in time for the holidays.
Enter your email address below to be notified when we have this item in stock:
You will receive an email as soon as Teabag Assortment - 12 Bags is back in stock.
This set contains four of each of our single-serving sencha, gyokuro, and hojicha teabags.
Shelf life
Consume quickly

The best before date is 150 days from when it is freshly packaged in Japan. For the best experience, consume within around one month of opening.
Serving size
1 teabag per cup (5 fl oz.)
Net weight
0.8 oz (0.07 oz per bag)
This set contains an assortment of our three types of one-cup size teabag: sencha, gyokuro, and hojicha. This 12-bag box includes instructions on the back in both English and Japanese. Its portable size makes it easy to enjoy tea at home or at work.
It also makes for a great gift, as an introduction to three different types of Japanese green tea.
Sencha
The most popular tea variety in Japan, sencha brews a harmonious balance of umami, sweetness, bitterness, and astringency, with a bright fragrance like a sunny field. Enjoy sencha in the morning or afternoon, at mealtime or teatime. This classic green tea fits any occasion.
Gyokuro
Grown under the shade in dedicated fields, gyokuro is a green tea that has an abundance of hearty-sweet umami flavor. With a dew-like aroma, less astringency, and a thick character, this tea is one for slowly sipping and savoring.
Hojicha
When you drink hojicha for the first time, you might be surprised that it is a type of Japanese green tea, given its amber color. When brewed, this roasted bancha releases an amazingly rich aroma that completely fills the room. The flavor is light-bodied, without much astringency.
Hojicha can be enjoyed in the evening as well as in the morning or afternoon. It tastes great on its own, with sweets, or accompanying a meal. Flavorful and refreshing, this tea is an absolute favorite among Ippodo patrons.
Ways to Prepare
Add one teabag to a cup, pour on boiling temperature water, and wait for 1.5 minutes.
Move the teabag around in the cup until the tea has reached the desired strength, and you're done.

Customer Reviews
4.96 out of 5 based on 25 reviews
---
Great and fresh tea
All of these were phenomenal. Very fresh tasting and the medicinal effects were great. I found the one I like the most and will continue ordering it.
---
---
---
---
Love these teabags and the assortment!
---
Excellent teas!
A great assortment of teas!
---
Great Tea
great teas i loved all of them and even gave some to my boss who also loved them
---
Try them all
Great way to sample their tea!
---
Great Introduction to Green Tea
I thought I didn't like green tea until I tried Ippodo matcha tea and ended up enjoying it very much. I wanted to see what other green tea variations I could try and the tea bag assortment was a great way to do so. Every variety was very enjoyable and it will help me decide which type of green teas to try next. I am honestly so grateful to have found this tea brand because it exposed me to new flavors and it is such a nice feeling to drink something tasty as well as healthy.
---
Show more