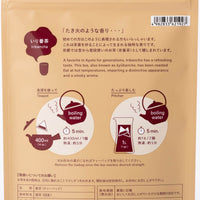 Iribancha Teabags (Teapot Size) - 18 Bags
We don't have an expected restocking date. This item may not arrive in time for the holidays.
Enter your email address below to be notified when we have this item in stock:
You will receive an email as soon as Iribancha Teabags (Teapot Size) - 18 Bags is back in stock.
Iribancha is produced by roasting green tea leaves flat until they start to smoke. This tea has a distinct smoky aroma, with a soft taste.
Shelf life
Consume quickly

The best before date is 180 days from when it is freshly packaged in Japan. For the best experience, consume within around one month of opening.
Serving size
1 teabag per pot (10 fl oz.)
Net weight
4.4 oz (0.24 oz per bag)
Iribancha, also called Kyobancha, is known for its unique smoky aroma and its refreshing flavor. People in Kyoto have long enjoyed Iribancha with meals and throughout the day to stay hydrated. Since it has less caffeine than other green teas, less-sensitive people also drink it in the evening to relax.
Iribancha is produced by using the large leaves, stems, and small twigs that remain on the tea tree after the first harvest. These leaves and stems are steamed, baked, and then roasted on a hot pan until they start to smoke. This process gives Iribancha its memorable smoky character.
These Iribancha One-pot Teabags are made from crushing large loose-leaf Iribancha into smaller leaves to fit into large pyramid sachets, making it easier and faster to brew. The package is re-sealable, making it ideal for storing the teabags, and is printed with preparation instructions and a description of the tea in both English and Japanese.
Ways to Prepare
Customer Reviews
4.5 out of 5 based on 12 reviews
---
Do not buy this tea
Not sure whether the flavor is like but the tea smells like burn leaves.
---
Campfire 🔥 worthy
Well somebody said it's an acquired taste. But I found the tea a bit too smokey in smell and taste for me. In all honesty, It was a hasty purchase.
---
Smooth and Smoky tea when brews a little cooler.
---
---
Delicious!
Iribancha has such a unique aroma and flavor. It smells very earthy and has a more mild yet pleasant taste. It is definitely an acquired taste but all tea lovers can appreciate it. The only comment I have is that I wish a loose leaf version was available as I don't like wasting an one-pot tea bag if I'm the only one having a cup of tea.
---
Deep and smoky!
I had conflicting reports about Iribancha, but I was curious to try it out. It has such deep flavor, and I love it. It is a tea you should savor every sip. I love it. I'm happy to try it out in teabags, but I hope loose Iribancha is available.
---
Pretty amazing and Pretty convenient
I love iribancha, the tea is quite amazing after a meal served hot but works very well as an iced tea on a hot day (also if you have the ability to make a latte this tea works awesome in a soy latte.) Nothing beats the loose leaf version but I would highly recommend these bags as they still have a wonderful flavor while allowing you to brew with much more ease. Looking forward to making a cup after this review :)
---
beautiful!
Smokey and gorgeous and intense! Reminds me of burning peat logs, which is the coziest aroma I can think of! I can't get enough <3
---
We found Ippodo when we visited Kyoto and this tea was sold only as a loose leaf, not in these bags, which are a bit easier to prep. This has become my favorite tea, and as an avid tea lover that was surprising! It has an exceptional campfire aroma and woodsy flavor which perfectly compliment the mild tea. Absolutely delicious!
---
Makes a good latte
The smokiness of this can be a bit overwhelming for me by itself, but it makes an excellent latte!
Show more