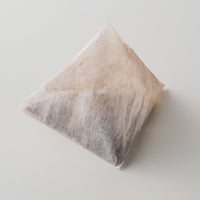 Mugicha Barley Teabags (Teapot Size) - 18 Bags
Expected in stock by
Friday, June 16
Enter your email address below to be notified when we have this item in stock:
You will receive an email as soon as Mugicha Barley Teabags (Teapot Size) - 18 Bags is back in stock.
Caffeine-free, Mugicha is made simply from roasted barley. Enjoy its smooth, comforting taste, hot or cold.

Shelf life
Consume quickly

The best before date is 180 days from when it is freshly packaged in Japan. For the best experience, consume within around one month of opening.
Serving size
1 teabag per pot (10 fl oz.)
Net weight
6.3 oz (0.35 oz per bag)
Mugicha is a drink made from brewing roasted barley grains, and the Japanese have enjoyed its malty, roasted character for centuries. Mugicha is caffeine-free.
Ippodo selects six-row barley grown in Japan for its Mugicha, and roasts it slowly until it reaches the right balance of aroma and flavor.
Ippodo Mugicha is a refreshing beverage with a lovely toasty aroma and a hint of sweetness.
Mugicha can be brewed hot or cold and enjoyed year-round.
Tea lovers also enjoy Mugicha as a chaser or alternative to alcoholic drinks at happy hour. Since it is caffeine-free, you can drink it to relax after dinner and before bedtime.
Ways to Prepare
Hot Mugicha
Put one one-pot teabag into a pot or other large container and add 1 liter (1 quart) of boiled water.
Let steep for 10 minutes before drinking.
Cold Mugicha
Put one one-pot teabag into a pitcher or other large container and add 1 quart (1 liter) of cold water.
Let steep for one hour before drinking.
Customer Reviews
4.96 out of 5 based on 25 reviews
---
Great summer tea
This makes a great hot-weather refresher.
---
Obviously tastes better
This mugicha is head and shoulders better than any I have tried from the Japanese grocery stores. For me, it's worth the expense.
---
Good
I've tasted this one in Japan when we had our vacation. It's good to know that there is now a store near me. Will order again.
---
Magic Mugicha
My husband & I truly enjoy this tea
---
Great product!
A great barley tea with great packaging!
---
Delicious!
I first tried barley tea when visiting Japan. I liked it so much that I wanted to continue to enjoy it back home! Ippodo's mugicha is the best tasting and most authentic version that I've had!
---
Barley tea
For sone reason not easy to give Mugicha ? But I like this barley tea
---
Wonderful Year Round Drink!
I have been purchasing Mugicha (Barley tea) for a few years now and always have a glass carafe in my fridge. It is our go to drink year round. Perfect unsweetened and healthy too. We have had several guests purchase this after trying it in our home. I highly recommend this tea!
---
Better than Expected
The flavor is full. The expectation of a "potful" turned into 5 nearly 2 cup mugs. So, much more value than is promised. I like my teas mild, but every cup was full bodied. For me, this will be a challenge because I alone drink tea in the family. I put some in the fridge and after microwaving it the next day, it was just a tad off of the original, but perfectly fine to drink. Buying this item you will be rewarded in a waterfall of tea. Lots, for a very fair price.
---
The barley tea I have been looking for for Sooo Long
This is the fine, delicate barley-luscious tea of my dreams. I haven't been able to find it since being in South Korea. It save my life during a recent four day power outage
Show more