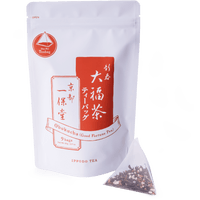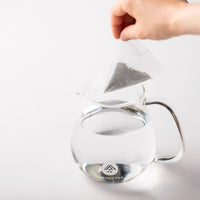 Obukucha Teabags (Teapot Size) - 9 Bags
Obukucha is a genmaicha that combines the light sweetness of high-grade yanagi tea leaves with the heartiness of roasted rice.
Shelf life
Consume quickly

The best before date is 180 days from when it is freshly packaged in Japan. For the best experience, consume within around one month of opening.
Serving size
1 teabag per pot (10 fl oz.)
Net weight
6.3 oz (0.35 oz per bag)
Obukucha is a special release genmaicha, made with higher-grade green tea leaves than our year-round genmaicha. The result is a tea with a fuller-bodied, sweeter green tea character, while its roasted rice fragrance is softer and more soothing. Just like our other genmaicha blends, this tea is pleasant to enjoy throughout the day and pairs well with meals.
We filled these larger pyramid-shaped teabags with the same Obukucha tea leaves as the loose-leaf version. Use these teabags to easily brew a batch of Obukucha when serving guests this winter.
In Japan, the important New Year's holiday is an occasion to gather with family—which of course, calls for tea. We release this Obukucha exclusively around the holiday season, as a tea to drink in celebration of the arrival of a new year.
The tradition of enjoying Obukucha at New Years goes back to the 10th century. In 951, a serious epidemic swept through Kyoto. In an effort to relieve the suffering, a Buddhist priest, Kuya, distributed tea to the people. It has been said that Emperor Murakami ushered in the New Year with a special cup of tea that year. Since then, it has been a Japanese tradition to drink Obukucha (which means "Good Fortune Tea") around the New Year. We hope that you and your loved ones enjoy this tea in happiness and health while looking towards the new year.
Ways to Prepare
Put 1 teabag into a pot or other large container and add 10 oz (300 ml) of boiled water
Wait about 2 minutes before drinking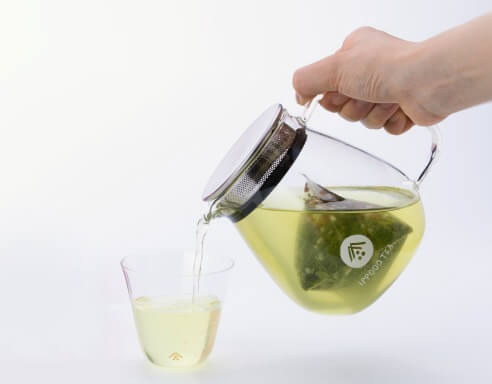 Put 2 teabags into a pitcher or other large container and add 1 liter of chilled water
Wait about 1 hour before serving
Customer Reviews
5.0 out of 5 based on 5 reviews
---
Top quality genmaicha!
Very smooth and flavourful genmaicha. I hope to reorder next year for another treat!
---
Sooo Good
It is my new "go to" for everyday tea! A little "good fortune" never hurt either~
---
Wonderful
This tea is wonderfully delicious especially when the weather is cold. I am a repeat buyer of this tea. My family has drank thru 9 full packages of one-pot Obukucha (Good Fortune tea) and a couple of the 100g loose tea packages since the start of its season. I ordered 4 more one-pot packages because I fear it would sell out soon as it ends its season. I usually purchase their hojicha and genmaicha which is wonderful as well, but since this is a seasonal tea, I decided to try it. My first purchase of Obukucha was actually at the Ippodo shop on Teramachi-dori in Kyoto. I was excited when it became available on Ippodo USA. I highly recommend.
---
Great tea
We drank this tea on new year day for good luck. Love it. Online order and delivery was a breeze too.
---
Lovely tea!
This is a convenient way to enjoy delicious obukucha and I've gotten 2 good, full-bodied pots from one bag, with a last steep that is a little weaker. Beautiful genmaicha for the new year that shouldn't be missed!
Show more