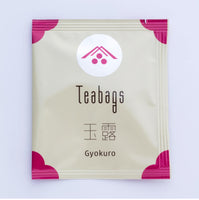 Gyokuro Teabags - 12 Bags
We don't have an expected restocking date. This item may not arrive in time for the holidays.
Enter your email address below to be notified when we have this item in stock:
You will receive an email as soon as Gyokuro Teabags - 12 Bags is back in stock.
This green tea teabag has an authentic gyokuro character, with light umami and a soft taste.
Shelf life
Consume quickly

The best before date is 150 days from when it is freshly packaged in Japan. For the best experience, consume within around one month of opening.
Serving size
1 teabag per cup (5 fl oz.)
Net weight
0.8 oz (0.07 oz per bag)
These teabags brew a light-body green tea with a soft, mellow taste. Made from gyokuro mecha (shoots and buds) and konacha (flakes), this tea is packaged in a wide pyramid-shape sachet. Choose this teabag for a simple and authentic daily cup of delicious gyokuro.
Grown under the shade in dedicated fields, gyokuro is a green tea that has an abundance of hearty-sweet umami flavor. With a dew-like aroma, less astringency, and a thick character, this tea is one for slowly sipping and savoring.
Ways to Prepare
Add one gyokuro teabag to a cup, pour on less-than-boiling temperature water, and wait for 1.5 minutes.
Move the teabag around in the cup until the tea has reached the desired strength, and you're done.

Customer Reviews
4.73 out of 5 based on 15 reviews
---
---
---
I gifted the tea bags for convenience
I havent tried ippodo's, but according to the gift receiver the color was very pretty (trying to translate to english) and refreshing/clean scent She also said it tasted fresh 색도 예쁘고, 향도 화ㅏ하니 깔끔하고 신선하다
---
Just right!
I love the refreshing taste of this. Not too strong but very fragrance. After trying this brans, I do not see myself going elsewhere.
---
I never received this order!
---
Excellent!
Kanza is excellent!
---
Sweet comfort in a cup
I find this tea is a joy: sweet greenness, gentle gold, light and comforting.
---
Great start to the day
We so enjoyed our first cups of Ippodo green tea. You can taste how fresh the product is. Much better quality than what we are used to drinking.
---
My favorite among all the one cup teabags tea
Gyokuro is my favorite! This type of green tea has little hint of sweetness. I keep the box in my office. It's always my go-to when I don't feel like drinking coffee for some of the mornings, or for a heavy work load afternoon. ;)
---
delicious
enjoyed tea. Ordering and delivery met expectations. thank you
Show more