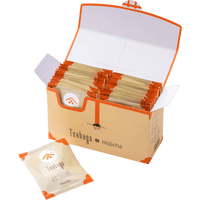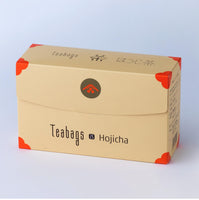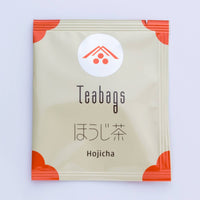 Hojicha Teabags - 25 Bags
We don't have an expected restocking date. This item may not arrive in time for the holidays.
Enter your email address below to be notified when we have this item in stock:
You will receive an email as soon as Hojicha Teabags - 25 Bags is back in stock.
This hojicha teabag has an authentic character, with a soothing roasted aroma.
Shelf life
Consume quickly

The best before date is 150 days from when it is freshly packaged in Japan. For the best experience, consume within around one month of opening.
Serving size
1 teabag per cup (5 fl oz.)
Net weight
0.8 oz (0.07 oz per bag)
These teabags brew a light-body tea with a fragrant roasted character. Made from roasted mecha (shoots and buds) and konacha (flakes), this hojicha is packaged in a wide pyramid-shape sachet. Choose this teabag for a simple and authentic daily cup of aromatic hojicha.
When you drink hojicha for the first time, you might be surprised that it is a type of Japanese green tea, given its amber color. When brewed, this roasted bancha releases an amazingly rich aroma that completely fills the room. The flavor is light-bodied, without much astringency.
Hojicha can be enjoyed in the evening as well as in the morning or afternoon. It tastes great on its own, with sweets, or accompanying a meal. Flavorful and refreshing, this tea is an absolute favorite among Ippodo patrons.
Ways to Prepare
Add one hojicha teabag to a cup, pour on boiling water, and wait for 1 minute.
Move the teabag around in the hot water until the tea has reached the desired strength, and you're done.

Customer Reviews
4.81 out of 5 based on 16 reviews
---
A cup of wonderful.
What delicious tea. Refreshing, bold and smooth. Adda bit of honey and it is paradise in a cup. Shipping was very quick and packaging was secure. I highly recommend this tea....and Ippodo.
---
---
Excellent Tea Bags
I really enjoy having a cup a hojicha tea made from your excellent tea bags!
---
Excellence
This is a wonderful tea to enjoy any time of day. Delivery within the US was very prompt and a joy as we first discovered this tea abroad.
---
Tea bags Perfect!!!
Love the taste of hojicha my favorite tea😊😊
---
great service
only i can say 5 stars
---
Very good quality hojicha rea teabags!
Show more