Porcelain Tea Set
This white porcelain kyusu holds about 120 milliliters, and is compact enough to hold and handle with one hand. It is very good for drawing out the umami flavor that is concentrated within tea leaves.
Material
Porcelain

Fragile item, please handle carefully!
Capacity
4 oz (120mL) - Teapot, 3.5 oz (100mL) - Teacup
Origin
Nagasaki Prefecture. Japan (Hasami-yaki)
5 x Porcelain Teacup
1 x Porcelain Kyusu - Small
The way to prepare Japanese tea in a kyusu is to first add enough tea leaves to cover the bottom of the teapot, then add hot water that has been cooled to the appropriate temperature, and finally pour out the tea once the tightly twisted tea leaves have unraveled. When you take your first sip, a pleasant sweetness and fragrance will delight you.
This small kyusu is ideal for tea lovers who want to savor rich flavor. (If your aim is to make larger batches of tea, however, please see our large kyusu teapots.) The clean, neat appearance of the white porcelain, which possesses a beautiful translucence, encourages you to thoroughly enjoy teatime.
Hasami-yaki has been a famous porcelain tradition since the 1600s, and we chose to work with a skilled Hasami-yaki artisan when designing our Small Porcelain Kyusu and Teacups. The brilliant snow-white color of Hasami-yaki porcelain highlights the goldenrod color of our teas.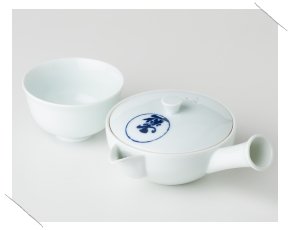 The kyusu can be purchased individually, or as part of a set with five teacups.
The teapot has a low, flat shape featuring a wide opening and lid, making it easy to put tea leaves in and take them out when cleaning up.
Preparing tea just for yourself can be a wonderful treat!
The bright golden yellow color of Ippodo tea leaves looks wonderful in white teacups. The combination of this golden hue and white is very pleasing to the eyes.
Instructions