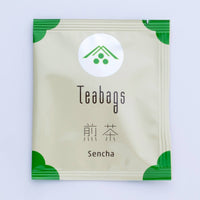 Sencha Teabags - 12 Bags
We don't have an expected restocking date. This item may not arrive in time for the holidays.
Enter your email address below to be notified when we have this item in stock:
You will receive an email as soon as Sencha Teabags - 12 Bags is back in stock.
Produced from sencha buds and flakes, this single-serving teabag has an authentic character, with light umami and astringency.
Shelf life
Consume quickly

The best before date is 150 days from when it is freshly packaged in Japan. For the best experience, consume within around one month of opening.
Serving size
1 teabag per cup (5 fl oz.)
Net weight
0.8 oz (0.07 oz per bag)
These teabags brew a light-body green tea with crispness and slight umami sweetness. Made from sencha mecha (shoots and buds) and konacha (flakes), this tea is packaged in a wide pyramid-shape sachet. Choose this teabag for a simple and authentic daily cup of sencha.
The most popular tea variety in Japan, sencha brews a harmonious balance of umami, sweetness, bitterness, and astringency, with a bright fragrance like a sunny field. Enjoy sencha in the morning or afternoon, at mealtime or teatime. This classic green tea fits any occasion.
Ways to Prepare
Add one sencha teabag to a cup, pour on less-than-boiling temperature water, and wait for 1.5 minutes.
Move the teabag around in the cup until the tea has reached the desired strength, and you're done.

Customer Reviews
4.94 out of 5 based on 17 reviews
---
Fabulous cup of tea!
I'm normally not the biggest green tea drinker, usually I like black teas. However I stumbles across Ippodo on the SHOP app in my boosted shop cash stores, and im SO THANKFUL I DID. I bought a box of the sencha teabags and the variety teabags and so far the sencha is probably my favorite with the gyokuro right behind it. The sencha is a wonderful anytime tea for me. It's light and smooth but maintains a wonderful flavor throughout drinking it. Definitely a great thirst quencher for sure. I really want to get into and try Ippodo's matcha as well, however I don't have any tools or enough $ to invest in the starter kit. Hopefully soon though!
---
Authentic Japanese Green Tea
I wanted to recapture the taste of the quality green tea that I experienced while visiting Japan, and this tea is it!
---
Delivery
Tea is excellent no delivery fee until I tried to reorder. Would reorder but will not because of delivery fee.
---
Ippodo Sencha individual teabags are the best!!
The tea is great but I really like the individual packaging and the teabag opening and preparation experience. Definitely worth the cost.
---
Refreshing and Flavorful
Could be a little more flavorful, but still really good! Too pricey to be an everyday treat, but nice on occasion. Make sure you use the right amount of water! I accidentally used a full 8 oz the first time and was very disappointed. It's much better when using the recommended 150ml (somewhere between 1/2 and 2/3 cups).
---
Fantastic tea
The Sancha Tea bags were the best tasting green tea I've ever had. I honestly don't have the patience required to have a good cup of Mancha but, perhaps some day.
---
煎茶ティーバッグ
煎茶をティーバッグで買う自分を少々情けなく思いましたが、ティーバッグは手軽だし、こんなにいいお茶をさっとアメリカの自宅でいれられることに感謝します。日本へ帰って家族の誰かに「お茶でもいれて〜」と頼めない今、このティーバッグはしばらく必需品になりそうです。
---
---
Office breaks
The tea bags are a great for offices and on the go. The elegant notes of herbaceous, sweet and mellow tones are good introductions for the brand and for those new to sencha a fine entry way on its complex path.
---
Show more