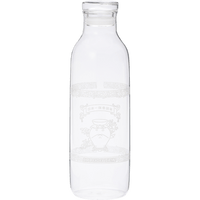 Carafe
Having one of these one-liter carafes at home or the office is very handy. Use it however you like, with hot tea or cold tea.
Size
2" (mouth) × 3.3" × 10.6"
Material
Glass

Fragile item, please handle carefully!
Thermal
up to 248°F (120°C)
Origin
KINTO Japan (made in China)
Prepare Japanese tea for the dining table or guests right away simply by placing your favorite teabags in the carafe and adding hot water. This saves time, reduces the number of dishes to wash, and is an easy way for anyone to brew tea. The carafe comes with a lid, and the large opening makes removing teabags and cleaning easy.
You can also quickly prepare a liter of tea by using a kyusu to brew the same leaves three times. Pour and combine each brew into the carafe until full. Using the carafe as a pitcher, keep it in the refrigerator, and serve cold Japanese tea whenever you like.
Both lid and carafe are made of highly transparent glass, allowing you to fully appreciate the color of the tea and anticipate its delicious taste. Use this cleanly-designed carafe in the home, for special gatherings, or at your workplace.
Brew tea easily with teabags!
Wide opening for easy cleaning.
Simple white logo.
A tea jar and flower design is beautiful when the carafe is filled with tea, or any kind of beverage.
Makes a good pitcher.
Can also be used as a pitcher for holding tea poured from a kyusu.
Box with carafe motif.
Comes in a box with a fun design, making this a good present.
Instructions
Customer Reviews
4.89 out of 5 based on 9 reviews
---
Glass Carafe
Liked this so much I've purchased several (sent as gifts) and it's universal: everyone loved this item. Perfect for keeping tea in fridge etc. One note: Japanese glass is thin and in the fragile side … but don't let that stop you from choosing this item, you'll just have to use it mindfully⭐️⭐️⭐️⭐️⭐️
---
Wonderful
Absolutely beautiful, right out of the box. They're a good size for storing tea in my refrigerator. Very happy with this carafe.
---
a lovely thing, and useful
It really is beautiful, and filled with iced Dragon Pearl Jasmine, it's even prettier. It is, however, bigger than I expected, and while it says it is dishwasher safe, I cannot imagine it surviving a run through the dishwasher as it is both tall and fragile.
---
Lovely glass bottle. It looks so elegant and is perfect for the one pot tea bags!
---
Beautiful tea vessel!
Right size , make perfect tea presentation, just looks special!
---
Beautiful
So happy I ordered this beautiful and perfect carafe. It makes me smile
---
Pretty and stylish
My cold brewed tea looks lovely in the carafe
---
Great find!
I'm so glad I got this carafe. I love being able to make large batches of tea that I can enjoy throughout the day. It's also fits perfectly in my refrigerator.
---
Love this Carafe!
So glad Ippodo USA online started carrying this item before the holidays! I enjoy having a cool cup of sencha in the door of the fridge. The pitcher I was using was too much of a space hog and unattractive. This carafe is tastefully decorated and holds a liter of delicious tea at the ready. Can be used for hot or cold beverages!
Show more