Genmaicha Teabags (Teapot Size) - 9 Bags
Our large-size Genmaicha teabags made from blending green tea leaves with roasted rice. Good for sipping at any time, and especially with meals.
Shelf life
Consume quickly

The best before date is 180 days from when it is freshly packaged in Japan. For the best experience, consume within around one month of opening.
Serving size
1 teabag per pot (10 fl oz.)
Net weight
6.3 oz (0.35 oz per bag)
We filled these large teabags with our original blend of genmaicha—green tea mixed with roasted rice. The tea inside is the exact same tea as our loose leaf Genmaicha. Enjoy its perfect balance of pleasant roasted rice aroma and classic green tea astringency.
Use these teabags to quickly and easily prepare hot tea at teatime, dinner or lunch, for hosting guests, and other occasions. The package is re-sealable for freshness, and it comes printed with instructions and a description of the tea in English and Japanese.
One of the more popular banchas, genmaicha is a mixture of yanagi (large plain green tea leaves) and roasted rice. The rice is roasted at two different levels: lightly roasted and deeply roasted until the rice grains puff. The result is a unique savory flavor and a strong popcorn-like aroma. The quantity of rice is purposely kept to a minimum while there is an ample amount of leaves with a light bitterness. This provides a perfect balance between the roasted aroma and the refreshing aftertaste of the yanagi.
Genmaicha goes well with meals and is tasty as an everyday tea.
Ways to Prepare
Put 1 teabag into a pot or other large container and add 10 oz (300 ml) of boiled water
Wait about 2 minutes before drinking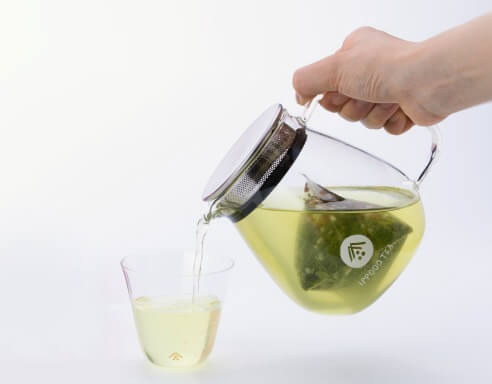 Put 2 teabags into a pitcher or other large container and add 1 liter of chilled water
Wait about 1 hour before serving
Customer Reviews
5.0 out of 5 based on 5 reviews
---
Awesome tea! The glass tea bottle works great and looks so lovely. I'm really enjoying the matcha tea sticks too!
---
Very convenient, top quality tea! Great in your water bottle or for entertaining.
---
Genmacha
This tea is bitter compare to Genmacha I have try
---
This tea is great! One of my favorites; I love the toasted rice flavor in this light tea! I bought 3 bags to have on hand.
---
Perfect for the road
I usually drink the looseleaf bio-organic genmaicha. While these teabags are not quite as good as the looseleaf, they were really wonderful and easy for travel and quite delicious in their own right.
Show more