Koicha, for a Next-Level Matcha Experience
Koicha ("thick tea") is a style of preparing matcha with a thick density. True to its name, a properly-made koicha has a consistency somewhere in-between maple syrup and warm honey. Koicha contrasts with usucha ("thin tea"), the typical matcha preparation style with a cream-like consistency.
Why make matcha so thick?
Koicha is the dark chocolate to usucha's milk chocolate; its robust taste is a pure delight for die-hard matcha fans.
It's simply the best way to experience any matcha powder's full, pure, and unhindered taste.
Take a sip and let it sit heavily on your tongue for a moment. The initial impact of its flavor will develop and expand, commanding your attention and lingering forever in the finish.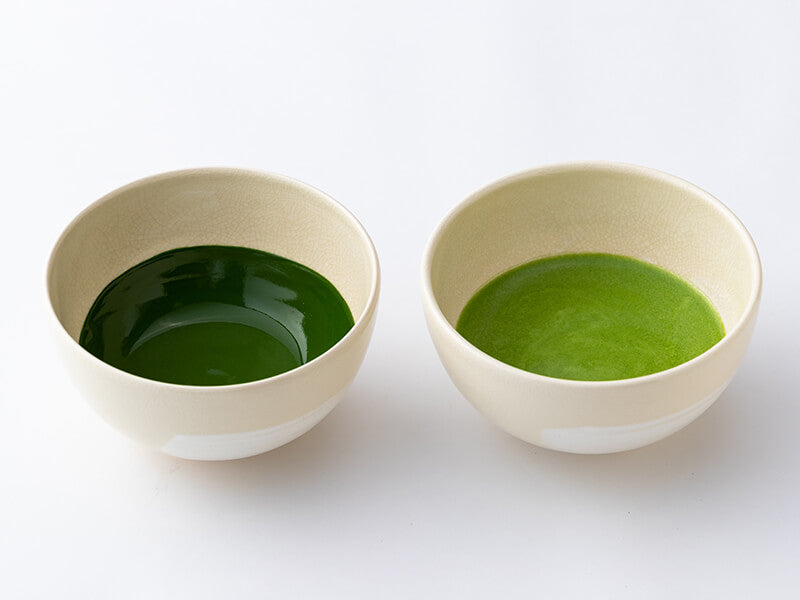 Which matcha is good for koicha?
Since koicha produces such a powerful flavor, you'll want to choose a matcha that has more sweetness and less sharpness.
For Ippodo Tea matcha blends, our matcha recommended for koicha are any that ranks higher than Kan.
How is koicha made?
We use twice the amount of matcha powder and half the amount of water that we use for usucha.
After sifting the powder into a matcha bowl and adding the water, we start by slowly stirring using a chasen. The drink becomes smoother and more consistent as the powder combines with the water. Soon enough, it takes on a beautiful luster that indicates it is ready to drink.
The Recipe
1. Sift Matcha
Measure 4 g (3 heaping tea ladles, or 2 level teaspoons).
Sift the matcha into a matcha bowl.
2. Add hot water
Use 30 ml (1 oz) of 80°C (176°F) water.
Cool boiling water by pouring it into a teacup first, then pour it into the bowl. There should be enough to just cover the matcha powder.
3. Whisk
Using a chasen, gently tamp the matcha powder to incorporate it with the water.
Then, mix for 15 seconds, moving back and forth and in circles. When finished, the liquid should be smooth and have a beautiful luster.
4. Enjoy
Drink from the same bowl you prepared the tea in. Take small sips and go slowly.
How to Enjoy Koicha
Koicha is best enjoyed on its own, savored as a delicious treat. Since it has such a rich taste, you might want a cup of cool water to sip on the side. We recommend eating something before sitting down for koicha—its strength can be overwhelming on an empty stomach.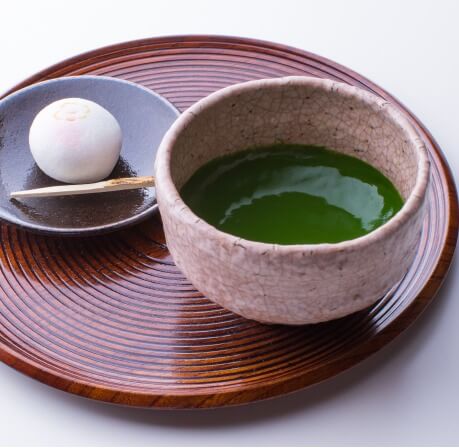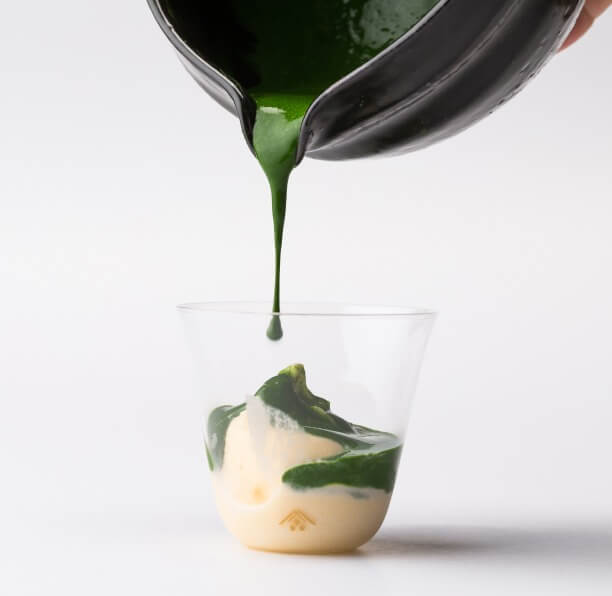 For those with a sweet tooth, try pure koicha as a topping or sauce for desserts. Make a matcha affogato by pouring koicha over a small dish of vanilla ice cream.
Recommended Teas
Ummon
Ippodo has produced the Ummon blend for decades. It has the depth and finish typical of the highest quality matchas, with a powerful taste. In koicha, its punchy, eye-opening character is even more prominent.
Kanza
Kanza is the highest-ranking matcha we produce and a prime choice for koicha. Its long, drawn-out finish and splendid umami are unmatched in our selection.
Recommended Utensils
Chasen
The best whisk for making koicha is the chasen, a whisk carved by hand from one section of bamboo. Its many fine tips excel at incorporating the matcha powder smoothly with the small amount of water used in this recipe.
Strainer
We recommend sifting your matcha first when making koicha (or any other matcha recipe). This removes the lumps found in the powder and prepares it for smooth stirring.