Guide to Japan-Style Iced Tea
On hot days when a hot cup of tea seems unbearable, we turn to our favorite iced tea recipes.
There are different ways to make cold, refreshing Japanese tea, and we recommend different recipes for different tastes.
This recipe is especially refreshing, and it happens to be one of the most popular among our staff at our Kyoto headquarters.
Its advantage is that you can quickly brew a large batch of iced tea in a few minutes. All you need is ice, your favorite Ippodo (loose leaf) tea, a kyusu, and a large pitcher.
At the office, we use this recipe for tea to serve at meetings. At home, we use it to brew a large pitcher of tea to go with dinner.
How to Prepare
Brew the tea with boiling temperature for a minute, producing a rich, concentrated flavor brew. Then, pour the tea into a small pitcher full of ice. The ice dilutes the tea to the right strength, and quickly cools it off at the same time. The result is an aromatic, flavorful, and refreshing iced tea, brewed up in just a few minutes.
Recipe:
Place 10g (2 tbsp) in kyusu teapot.
Add 210 ml (7 oz) of boiling water.
Brew for 60 sec.
Pour into glass or small pitcher full of ice.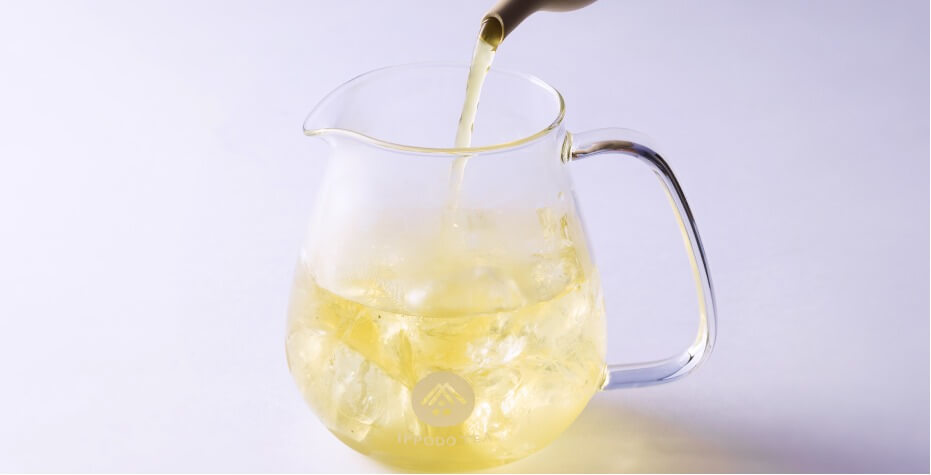 Recommended Teas
Hosen Sencha
Classic sencha balance of sweetness, umami, and astringency. Brewed in the quick iced tea recipe, Hosen's aroma stands out as energetic and refreshing.
Tekiro Gyokuro
Choose for a smooth, naturally sweet green tea with a mellow character. In this recipe, it produces a crisper, "greener" tasting brew with a beautiful green color to match.
Hojicha
Roasted green tea, Hojicha has a malty, roasty fragrance that is eye-opening in this recipe. Choose if you enjoy iced coffee.
Recommended Utensils