All About the Chasen - Matcha's Most Important Tool
Throughout the long history of the tea ceremony in Japan, various tools were developed and improved over centuries, with the goal of producing a transcendent serving of matcha. The chasen, a special whisk made from bamboo, is perhaps the most recognizable matcha utensil.
Even in modern settings of casual tea at home or the office, the chasen is one of the keys to making aromatic and delicious portions of matcha.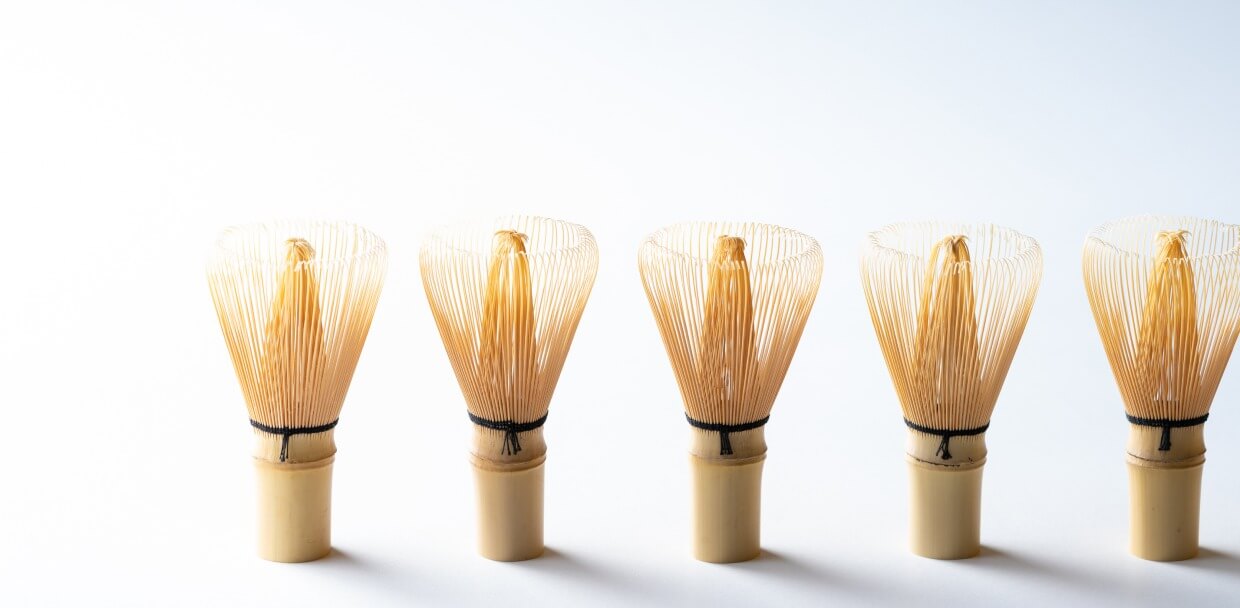 Why use a chasen?
After testing a lot of alternatives from metal forks to blenders to modern tools designed for matcha, we concluded that the chasen is still the best tool for whisking matcha.
Bamboo is the key to the chasen's effectiveness. Bamboo can be whittled down into thin prongs, which are able to combine fine matcha powder fully with water. Bamboo is sturdy enough that it won't break easily, and it has springiness for quick agitation. At the same time, it is soft enough that it won't damage your bowl.
A bamboo chasen easily churns matcha, aerating it, improving its texture, and drawing out its wonderful aroma.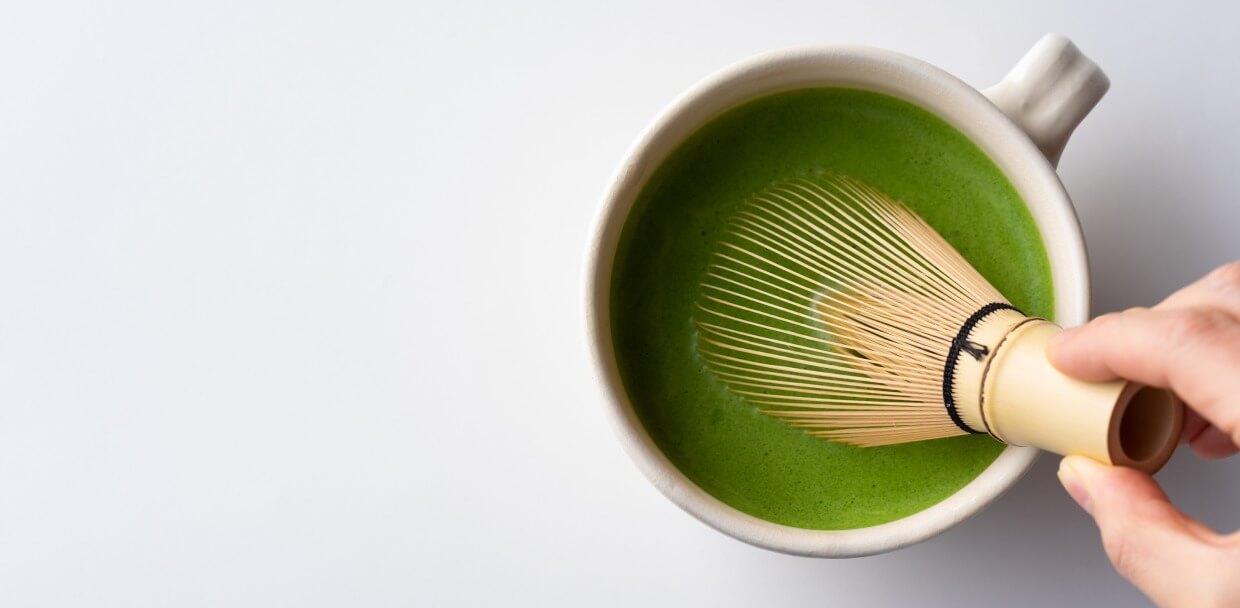 Choose your chasen.
Matcha Whisk - Chasen
Our standard matcha whisk is meant to be used frequently, as a daily matcha making tool. Use for regular matcha (usucha), thick matcha (koicha), and other recipes.
View item
Essential Matcha Kit
This full set comes with our standard chasen and a stand, a matcha bowl, a bamboo scoop, and our recommended matcha for beginners.
View item
How to whisk with a chasen.
First, add the matcha powder and water to your bowl.
---
Hold the chasen with straight fingers in a loose grip, resting your fingers comfortably on the ridge in the handle. Hold the bowl steady with your non-whisking hand.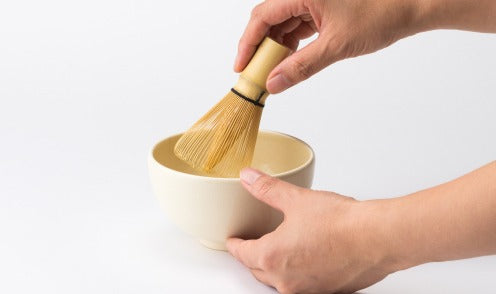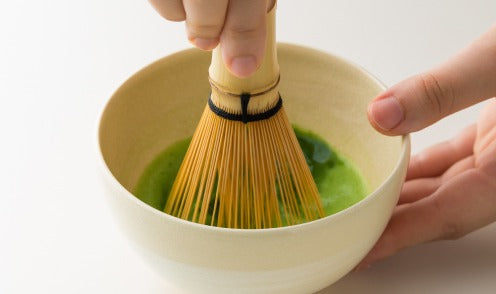 Place the chasen tips in the water, and start whisking. Whisk with a wide motion by just moving the wrist. Your whisking motion should be in an "M" shape, zig-zagging forwards-and-backwards repeatedly. We take care not to heavily scrape the bottom of the vessel, though we do touch the front and back sides of the bowl.
---
After 15 seconds, your matcha is ready.
Watch Video
Mastering the motion.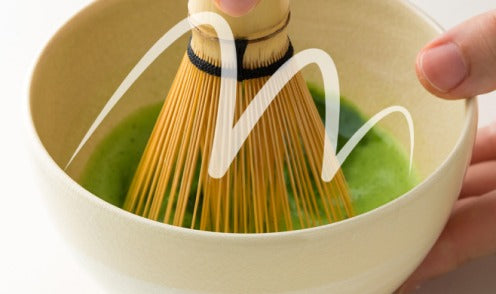 The forwards-and-backwards motion for matcha is different from the circular motion used when whisking eggs or whipping cream. A straight, zig-zag motion is more effective at quickly agitating and aerating matcha.
It takes a little time to get comfortable with this motion. We recommend starting with a slow motion at first. You can also practice with plain water in a bowl until it feels natural.
It's not all about the foam.
Don't be frustrated if you aren't able to make a foamy matcha! It is a common misconception that matcha needs to have perfect photogenic foam.
Matcha without foam is actually a style that we also intentionally make, depending on our mood. Foam-less matcha made by whisking slowly has a clearer, purer taste.
How to care for your chasen.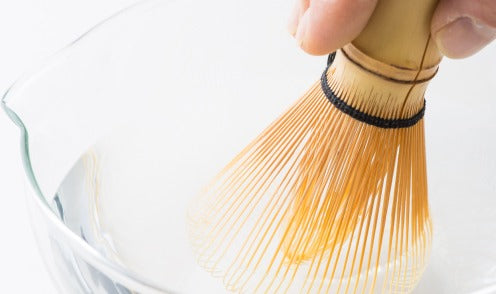 Before whisking.
When you get out your chasen, wet and soften its tips by placing it tips-down in a cup of water. This makes the whisk more supple before whisking. It should be ready to use in a minute or two.
After whisking.
Before the chasen dries, clean the matcha off by rinsing in plain water. If any matcha particles are stuck on the chasen, you can gently brush these off with your fingers under the water.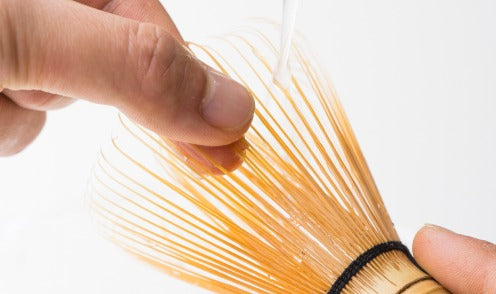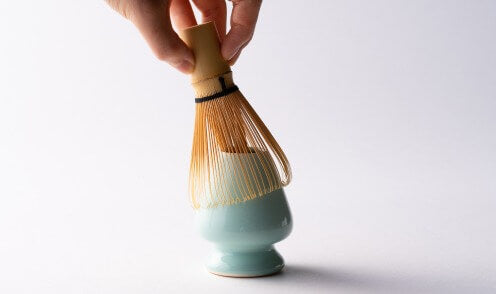 How to store the chasen.
Store your clean chasen in the open air to let it dry. We recommend storing it tips-down on a clean Whisk Stand (Chasen Tate) to keep its shape.
Each chasen is shipped in a protective case, which was not meant for storage. (The chasen may form mold if kept in this case.)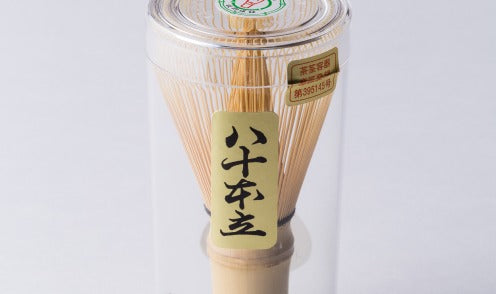 Bonus tips.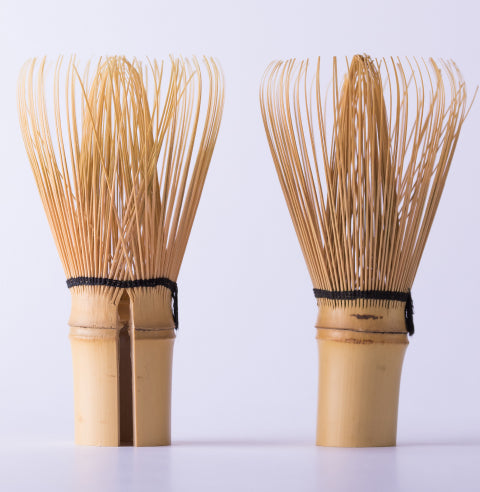 You can still use a chasen with a crack in the handle.
With changes in the humidity in the storage environment, the chasen can develop a crack in the handle portion. Don't worry! The thread weaving at the base of the prongs prevents any cracks from spreading further. In fact, many of our chasen that we use daily at our stores and tearooms have a crack in them.
When to replace a chasen?
Since each chasen is made by hand from bamboo, it will not last forever. If your chasen has a lot of broken tips, and if you can't whisk matcha as easily as you once could, it is probably time to replace it with a new one.
Chasen - an indispensable companion to matcha.
Just like getting the right dripper, gooseneck kettle, and grinder for making delicious pour-over coffee, getting the right set of matcha utensils, including a chasen, is key for making delicious servings of matcha.
Treat your chasen gently, and after a little use, you'll find the chasen an indispensable companion to your everyday matcha routine.